I was excited to try this newly launched double ended mascara from Max Factor because I do on occasion layer mascaras to get a fuller effect so the idea of it being within one tube definitely appeals. The idea with this 2 step product is that you start with a volumising formula and brush to get your lashes as big as possible before going in with a lengthening option. In my opinion it works better the other way around, I like to lengthen first but I guess that's a matter of preference.
The mascara isn't the greatest for me, I'm very picky though and I think it's so difficult to recommend/the opposite when it comes to this kind of product. A blush is a blush, a lipstick is a lipstick but what is my holy grail mascara you may just absolutely hate.. it's not a one size fits all deal.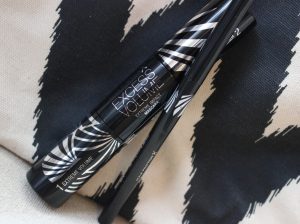 Max Factor and Covergirl (the US equivalent) are effectively the same brand and the Lash Blast mascara from CG that is raved about online did absolutely nothing for me but make my lashes black, no volume and it's all about the brush. Maybelline Rocket (also very popular) has an almost identical brush – I don't like that either. The extending brush in this system is the same and so I knew as soon as I opened it I wasn't going to love it. I can get some volume but it's more than a little clumpy and unless we're talking all out false effect then it's just not worth the spidery look in my opinion.