Dear Readers – get that reference and win a prize! – it's my BIRTHDAY shortly but this post is completely unrelated to that.  Rest assured I have been very much in the birthday spirit of late and spending like someone will take all of my money away if I leave it in my account for too long so you can expect a post on my recent online splurges very soon. Anyway.. Here's what I got in my January box!
Weleda Sea Buckhorn Hand Cream
I'm not a huge fan of hand cream usually, I rarely have a period of time during the day where I'm not using my hands so having them covered in lotion is my idea of a nightmare. If I find one I really like I reserve it for bedtime but even that's tough as I'm often glued to my phone/laptop/ipad moments before I'm asleep. This is not greasy and absorbs pretty fast so it's a nice one to keep in my bag and apply at work.. I can still type but my hands feel hydrated – score!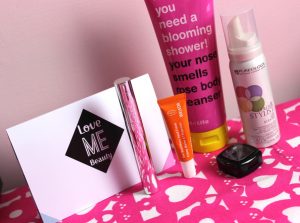 Full Size: £8.96 for 50ml
Cosmetics à la Carte Divine Lash Mascara in 'Black'
I don't usually use higher end mascaras because I don't think they're any better than the cheaper ones you can buy.. and this was no exception. The small brush makes it perfect for my lower lashes but it just doesn't do anything special for me. That being said I don't love many mascaras.. maybe that's why I rarely feel like splurging on them.

Full Size: £23 for 9g
NYX Cosmetics Single Eyeshadow in 'Cryptonite'
Overall I was really happy with this box, next month (or this month I suppose) we have been promised a surprise item which is pretty exciting as the whole premise behind Love Me Beauty is that you have a pre-determined set of menus and you know what to expect but the idea of one surprise item definitely intrigues me!